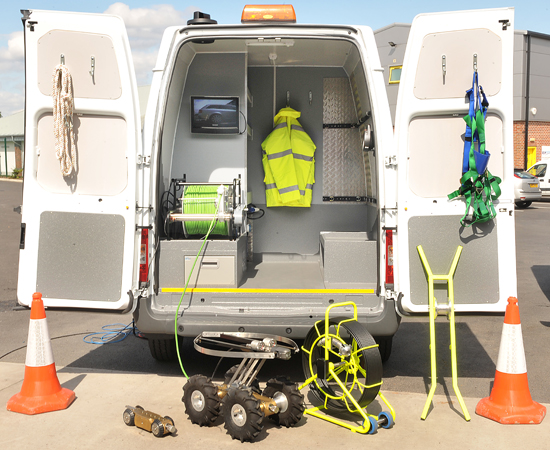 Ford Transit LWB 140 T350
Cab Air Conditioning
Electric windows / mirrors
6 speed gearbox

Generator
Yamaha EF3000 iSE Inverter
Vented out through floor

General
Vehicle is ply-lined prior to Speed-Lining sides to just under worktop height. Floor sections also finished in Speed-Lining material. Upper office section wall to be carpeted, the rear section walls finished in grey wipe-clean board. All wood surfaces below half height in rear area finished in Speed-line material. Anti slip tread fitted to side load door access.

Electrics
Split charge system which includes an auxiliary battery, voltage sensitive relay and battery protection.
12v Hand-wash unit
12v Hot water (drinks) dispenser
Additional 12v lighting to office and operational area
240v inlet and consumer board protection for approx 5 x 13amp sockets
12v diesel night heater with timer
Intercom system
Magnetic light with DIN socket
Office Section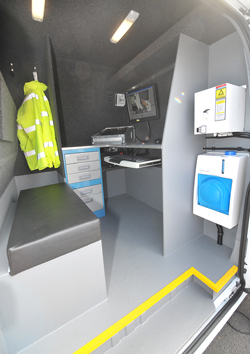 Bench seat c/w foam base and storage area underneath
Worktop which runs across mid-bulkhead and along o/s of vehicle
Tevo heavy duty drawer pack below worktop on o/s of vehicle
Storage shelf across mid bulk head
Inspection hatch
Wind/rain deflector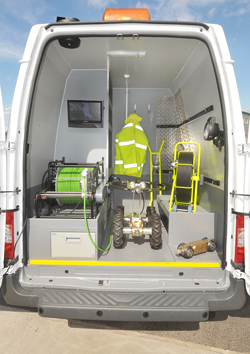 Rear Section
Area for generator with vent in floor and vent through floor for exhaust, c/w with hinged lid with ease of access. Heavy duty type drawer units to front and side of cable drum bespoke storage unit, crawler storage space.

Winch/signage and equipment storage space, coat hooks.