Intelligent camera head guides and tracks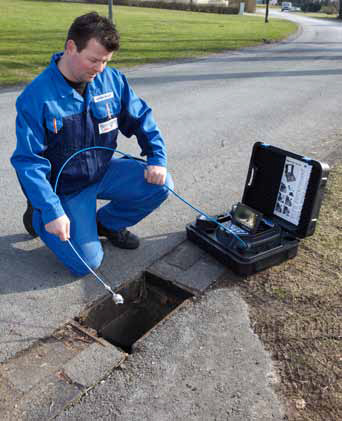 Video inspection in a case: With the new Wöhler VIS 350 camera system, you not only have everything you need to inspect waste water pipes, flue gas and ventilation lines as well as industrial systems – you can also precisely locate the damage and accurately document the results of the inspection.
Wöhler's new camera system is both compact and safely housed in a plastic case for transport and mobility. The system consists of a 20 m push rod cable with reel, a color camera head with a diameter of 40 mm and a large color monitor.
Then there is the typical Wöhler control panel that ensures easy control of the camera head: The camera pans 360°, tilts 180° and offers best-possible lighting to carry out an all-round inspection
of the inside of the pipe.
Particularly practical: After panning and tilting, the home function automatically aligns the camera angle to straight ahead with a simple push of a button. View, save and transmit The camera can record video of what it sees as it travels along the line run. Even several tight 87° bends along the line are no hurdle. When damage is discovered,one quick press of a button is all that is required to "shoot" and save a photo. To be able to assess and specifically target repair work, we at Wöhler have perfected the technique of precisely locating damage. The actual meter count and the position of the head are displayed in the monitor. That, for example, is a huge help when dealing with extensive networks of pipelines. The top and bottom of the pipe are displayed on the monitor at all times and at how many degrees the camera is being guided up or down. Even low-cost, simple wireless location detection is available in the form of the new Wöhler L 200 Locator.